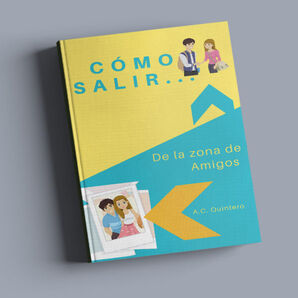 Description

[

]
We've all been there. We have an amazing friend, who knows everything about us. We do everything together. We even finish each other's sentences. It's crazy! Then, one day, while harmlessly hanging out and laughing at each other's jokes, something shifts. Our eyes glisten and our heart jumps. We are helplessly swept away by the wave of attraction. Before we know it, we are head over heels in love, but hopelessly stuck in the friend zone! Lena and Tristan can definitely relate! They are best friends, video game enthusiasts, and running buddies who explore the beautiful city of Bogotá, Colombia. But when their relationship starts to change, they realize that are in uncharted waters. They'd make the perfect pair, but must fight a few uphill battles. Will their lifelong friendship help or hinder any chance of romance? Find out in "Cómo salir de la zona de amigos"…you may learn a few things! Click here to purchase.
| Author | Publisher | Language | Level | Total Word Count | Unique Word Count | Tense(s) |
| --- | --- | --- | --- | --- | --- | --- |
| A.C. Quintero | | Spanish | Novice Mid | 5000 | 150-200 | Past |
Reviews

[

]
The information below is comprised of opinions from CI teachers and students. If you want to contribute a review or critique of this book, simply click the Edit button next to the appropriate section (positive reviews or negative critiques). If you do not wish to publish your name with your review, please provide a description of your role (teacher, learner, author, etc).
Positive Reviews:
[
]
Critiques:
[
]